Ruha Benjamin: Viral Justice: How We Grow the World We Want
How to Participate
Participants are invited to attend in-person at the Michigan Union Rogel Ballroom, 530 S State St, or via Livestream. Registration is required.
Speaker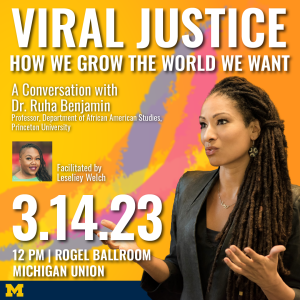 Dr. Ruha Benjamin is a professor in the Department of African American studies at Princeton University. Professor Benjamin specializes in the interdisciplinary study of science, medicine, and technology with a focus on the relationship between innovation and social inequity. She is author of Viral Justice: How We Grow the World We Want (Princeton University Press 2022), Race After Technology: Abolitionist Tools for the New Jim Code (Polity 2019), People's Science: Bodies and Rights on the Stem Cell Frontier (Stanford University Press 2013), and editor of Captivating Technology: Race, Carceral Technoscience, and Liberatory Imagination in Everyday Life (Duke University Press 2019), as well as numerous articles and book chapters.
Professor Benjamin received her BA in sociology and anthropology from Spelman College, MA and PhD in sociology from UC Berkeley, and completed postdoctoral fellowships at UCLA's Institute for Society and Genetics and Harvard University's Science, Technology, and Society Program. She has been awarded fellowships and grants from the American Council of Learned Societies, National Science Foundation, Ford Foundation, California Institute for Regenerative Medicine, and Institute for Advanced Study. In 2017, she received the President's Award for Distinguished Teaching at Princeton and, in 2020, the Marguerite Casey Foundation Inaugural Freedom Scholar Award.
In collaboration with partners across U-M, the School of Public Health's DEI Office is bringing Dr. Ruha Benjamin to campus for a talk and community conversation on March 14, 2023. Trained as a sociologist, Dr. Benjamin's research sits at the intersection of science, technology, and medicine and resonates deeply with the field of Public Health. Dr. Benjamin will deliver a lecture on her new book, Viral Justice: How We Grow the World We Want. Viral Justice draws on lessons learned from the COVID-19 pandemic and amplified movements for racial justice and, in doing so, "offers a passionate, inspiring, and practical vision of how small changes can add up to large ones, transforming our relationships and communities and helping us build a more just and joyful world."
This event is the School of Public Health's Winter 2023 DEI lecture, and is co-sponsored by the Center for Ethics, Society, and Computing (ESC); School of Information (UMSI); Ross School of Business; Center for Education of Women (CEW+); Trotter Multicultural Center; Department of Sociology; Office of Diversity, Equity, and Inclusion; Ford School of Public Policy; Department of Anthropology; and the Science, Technology & Society program.