Michael Zimmer: Data Ethics During a Pandemic
How to Participate
This event will be held on Zoom: https://umich.zoom.us/j/91648623329
Meeting ID: 916 4862 3329
Passcode: misc2021
Title
Data Ethics During a Pandemic
Speaker
Michael Zimmer, Marquette University
Abstract
COVID-19 has generated unprecedented challenges, but also many opportunities for the computer science, data science, and artificial intelligence communities to generate novel solutions for addressing the global pandemic. These range from attempts to create privacy-protecting contact tracing platforms, to deploying tools for the effective monitoring of citizens, remote workers, and students, to leveraging AI for enhanced diagnosis, triage, health care operations. The rapid pursuit of such computational and data-driven solutions to these urgent problems must not lose sight of their related social and ethical implications, even during a pandemic. In this talk, Prof. Michael Zimmer of Marquette University will highlight a multidisciplinary approach for addressing the complex technology ethics issues that computer and data science professionals face despite the urgency of the current crisis.
About the Speaker
Prof. Michael Zimmer is an Associate Professor in the Department of Computer Science at Marquette University and is affiliated faculty at the Northwestern Mutual Data Science Institute. He currently serves as Director of Undergraduate Studies, Co-Director of the interdisciplinary Data Science major, and Director of the Data Science Graduate Certificate. Prof. Zimmer also co-directs the Social and Ethical Computing Lab at Marquette University.  With a multidisciplinary background in communication & Internet studies, science & technology studies, and information policy & ethics, Prof. Zimmer researches the social and ethical dimensions of our contemporary digital ecosystem, with particular interest in digital privacy, data ethics, internet research ethics, and how users understand information flows within and across digital platforms. Recent work has focused on both quantitative and qualitative investigations into the privacy and broader ethical dimensions of big data and computational social science research, social media platforms, wearable fitness trackers, intelligent personal assistants, and the development of suicide risk prediction algorithms based on social data.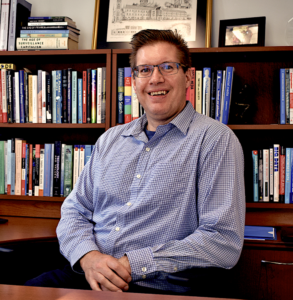 This event is co-sponsored by Michigan Interactive and Social Computing.