ESC Watch Party: Moon (2009)
HOW TO PARTICIPATE
Participants are invited to attend in-person at North Quad (105 S. State St, Ann Arbor Michigan 48109), Space 2435.
ABSTRACT
Astronaut Sam Bell (Sam Rockwell) is nearing the end of his three year contract of harvesting Helium-3, a precious energy source, from the far side of the moon. His only communication with Earth is through the use of pre-recorded messages, and his only assistant a computer named GERTY (voiced by Kevin Spacey). Isolation begins to take an alarming toll on his mind, mere weeks before he is to return home. This sets into motion a series of events which reveals the terrible truth behind his mission. (imdb) Rated "R" for profanity.
DETAILS
Join us for an in-person movie night with Moon (2009). Hailed as a "tremendous" (BBC) sci-fi achievement filled with "captivating" performances (Film Obsessive). the film has been described as a "beautifully-crafted fable about the consequences of human greed and unfettered technological endeavour" (RollCredits) with an unusual take on the future role of AI companions. Reviewers warn it will leave "viewers quietly questioning their…opinions [of] humanity" (FilmDaze).
The event will include complimentary popcorn and drinks, as well as a prize giveaway.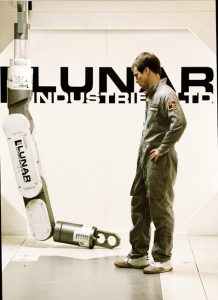 Image credits: Sony Pictures Classics; GERTY 3000 Robotic Assist Group.