A keynote address at the online UM Data Science and AI Symposium.
HOW TO PARTICIPATE
Registration is required but this symposium is free and open to the public. Click the link at the top of the event page (https://midas.umich.edu/2021-symposium/) to register.
TITLE
How machine learning can support human creators
SPEAKER
Dr. Rebecca Fiebrink
Reader, Creative Computing Institute | University of the Arts London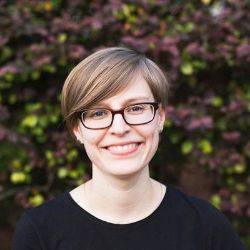 SHORT BIO
Dr. Fiebrink's research focuses on human-computer interaction, machine learning, and signal processing all to allow people to apply machine learning to new areas such as designing new musical instruments or gestural interfaces for accessibility. She is also involved in digital humanities scholarship and machine learning education.
This event is organized by MIDAS. For more information, see https://midas.umich.edu/2021-symposium/ ,